For more than 32 years, Ten Dance Media is one of the leading music distributors in Europe. From the headquarter in the heart of Berlin no longer only records are sold.
The range of goods in the online shop Grooves.land has grown steadily over the past 32 years. Starting as a classic mail order sales at the beginning of the 90s to an online shop with over 1,200,000 articles. Despite to the inclusion of merchandise, image carriers and games, areas such as entertainment electronics, telecommunications and computer technology are essential components of the product range today.
Even though the products range was constantly expanded, the company never forgot their origins. A very important aspect is the TenDance magazine, which appeared from 1992 to 2004 and was published directly by Ten Dance Media. It soon became a pioneer in the electronic music scene.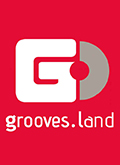 Sales
Today we are a successful digital sales platform with the online shop Grooves.land.
As a specialist for sound carriers, audio equipment and electronic parts, we have been present on the market since 1992. In the beginning, Ten Dance Media was successful as a classic mail order distributor. Since 1996, however, it has developed more and more into an online shop.
Today, Grooves.land offers a wide range of consumer electronics, telecommunications and computer technology in addition to audio and video carriers, studio and DJ equipment and audio electronics. The assortment now includes about 1,200,000 articles, which are sold not only in Germany but mainly in other European countries, the United States and Australia.
Publishing
An aspect that made a huge impact on the whole company was the TenDance magazine. The magazine was published from 1992 until 2004.
After its first publication, the magazine quickly advanced to become the largest free European monthly magazine for the electronic music scene and provided its readership with news, interviews and reports. Published as a print edition, the scene magazine for the most diverse areas of electronic music, parties and techno lifestyle enjoyed increasing popularity over the years and was finally published throughout Europe. For 12 years, TenDance magazine was a constant companion to electronic music, its scene, its fans and society.
In 1992, the magazine's central feature was initially the charts of DJs and record shops, as well as event information. However, the magazine quickly grew into a complete magazine and offered interviews and reports on national and international DJs, technical reports, DJ charts, record reviews as well as an overview of parties and events. Despite being discontinued in 2004, TenDance magazine left a lasting mark on the electronic music scene.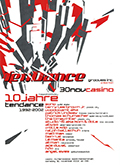 Events
Over the past 32 years, Ten Dance Media has been involved in many events, whether as a promoter or organizer.
Milestones are certainly the co-founding of the KamithHall in 1992 and party concepts with up to 5000 visitors, such as X-Mix-1, Atmosphere Rave and Space Admission.
But we have also organised events in famous Berlin clubs such as the Tresor, Walfisch, Sage, Casino, Matrix and many more, as well as Germany-wide tour concepts, so that TenDance has a lasting name in the techno scene.
Ten Dance Media, with its headquarter in Berlin, has been one of the leading distributors of sound recordings in Europe for many years. It was founded in 1991 by Daniel Stolze, who, in addition to successfully building up a company, was also very well-known as a DJ and producer in the 90s and early 2000s.
TenDance started out as a mail order distribution and developed into the online shop Grooves.land. Over the years, the range of goods has expanded steadily and now includes merchandise, picture carriers, games, entertainment electronics, telecommunications and computer technology. The very successful online shop Grooves.land today offers its users approx. 1,200,000 articles and is constantly striving to meet the wishes of customers and the requirements of digitization.
Nonetheless, TenDance remains true to its roots and therefore enjoys a wide clientele. These roots exist on the one hand in the specialization in sound carriers, audio equipment and electronic parts and on the other hand in the commitment within the techno scene. From 1992 to 2004 Ten Dance Media was the publisher of the largest European monthly magazine for electronic music in Europe with news, stories, interviews, party dates, tips and more. Despite the company and the publishing, the comapany was also active as an organizer and promoter with various events and concepts, which further increased its popularity within the scene.
In the course of the company's growth, TenDance has always been aware of its responsibility and has been involved in the areas of sustainability, environmental protection and cultural diversity for years in order to set a shining example.
Below we have compiled a small timeline of the most important developments and events as an overview:
March

Founding of TenDance

With the business registration in March 1991, a young company is born and going to be active in the music sector in the future.

October

1st Grooves Inc. event

First event in the KamithHall in Frankfurt (Oder) under the name Grooves Inc.

May

1st Space Admission

With the techno legends Kid Paul, Paul van Dyk and Abyss, the Space Admission became an event concept and was able to inspire several thousand people in the early 1990s. The Space Admission became a series of events in many Berlin and Brandenburg clubs, which later even had up to 5000 visitors.

October

1st TenDance party sheet für House & Techno

In October, the first party sheet appeared under the name TenDance and was intended to offer the East German party scene, which was previously ignored by the media, their own platform.

März

1st print edition of TenDance magazine

Thanks to the support of Low Spirit Head William Röttger and the record label MFS Records, the flyer is now available as a professionally printed magazine.



March

TenDance starts mail order vinyl shipping

TenDance starts its first vinyl mail order. It is now possible to bring your favorite sounds from the clubs directly to your home.

May

Label & Booking agency

In addition to the magazine, mail order shipping and organization of events, the booking agency and the Grooves Inc. label are established.

July

TenDance becomes an regular organizer

TenDance will now also be a lregular organizer in the Berlin clubs Walfisch and Praxis Dr McCoy.

November

X-Mix-1 event

TenDance is organizing its first major mega-event in cooperation with the MFS label. On board are the DJs Paul van Dyk, Dr. Motte, Abyss, Mijk von Dijk and Marcos Lopez.



February - March

1st TenDance Germany tour

For the first time, TenDance Magazine is going on a tour through German clubs with DJs Jens Mahlstedt, Jauche, Abyss, Mijk van Dijk, Marcos Lopez, Perplexer and others. An audience of several thousand people was partying at the four events.

Juny

Magazine circulation rises to 85,000 copies

Sucess proves you right. This also applied for TenDance. What started as a simple flyer and grew into a magazine and is now published with a standard print run of 85,000 copies.

April

TenDance moves to Berlin

After TenDance Head Daniel Stolze has lived in the capital for several years, TenDance is now relocating its official headquarter from Frankfurt (Oder) to Berlin.

May

Organizer in the famous Berlin Tresor

The commitment as a regular organizer in the most popular clubs on the scene continues.TenDance is now also becoming a regular organizer in the legendary Berlin Tresor.

July

TenDance magazine circulation rises to 120,000 copies

The Love Parade grew from year to year and became an integral part of the scene. TenDance has accompanied her for the past few years. On the occasion of this annual event, the magazine is now appearing in a special edition of 120,000 copies.

October

Seven-gifit annual sales

TenDance crosses the threshold of one million Mark annual sales for the first time and thus impressively shows the potential of the electronic music scene.

February

TenDance starts to sell audio carriers online

The possibilities of the new medium internet seem almost unlimited and reach an even larger audience. That is why music distribution was now offered online at plattenladen.com and recordshop.de in addition to the classic mail order.

January

TenDance gets a new logo

The new TenDance logo symbolizes the changing times and that the magazine has grown up, it is also hard on the beat of the scene.

February

Magazine gets new layout & more lifestyle aspects

The electronic music scene has always been an incubator for new innovations and TenDance has always been a pioneer during the recent years. Electronic music has meanwhile advanced from a niche to mainstream and a whole generation not only dances to it, but lives it. In order to take this development into account, the magazine is given a new layout and more content in terms of lifestyle.

May

TenDance publishes its first compilation

In collaboration with the More Music label, TenDance released its first own compilation of club classics from 1990 to 1996 in techno, house and dance. The double CD offers 25 tracks for all fans of electronic music.

March

Playthek becomes an integral part of the magazine

In order to meet the innumerable inquiries as well as the increased demands of the readership for DJ equipment, sound technology and games, the magazine will from now on be expanded to include the section Playthek with reports on games and technology.

June

Organizer in the Berlin Sage Club

TenDance is now also a regular organizer in the Berlin Sage Club.

November

TenDance goes digital

TendDance is breaking new ground in digital communication. The TenDance magazine is no longer only analogue, but also digital. The new offer at tendance.de gives readers access to the entire content of the magazine at any time and to search for current events.

May

TenDance founded Strike Records

TenDance founds the Strike Records label. In addition to Grooves-Inc., which already offers house artists a home, the publisher is now also creating a label for the techno genre.

May

TenDance is making its music distribution more international

With the domains recordstore and classicstore, the music distribution is expanding to an international level. Sound carriers are now more accessible to English, French and Spanish customers. With the expansion, TenDance now covers the majority of the European market.

September

TenDance founded Alternate-Records

With this label TenDance wants to position itself even more internationally. Alternate-Records should focus especially on the actors in the field of minimal and experimental techno. The first publication has already been booked.

November

Ten years Ten Dance compilation

In November 2001, on the occasion of the upcoming 10th birthday of TenDance magazine, the "10 Years TenDance 1992-2002 Compilation" with electronic tracks from the last 10 years was released. With features by Roger Sanchez, Mellow Trax, Azzido Da Bass, Dr. Motte, WestBam, Armand Van Helden, Nalin & Kane, DJ Abyss, Josh Wink, Lambda and many more.

February

TenDance magazine says goodbye with its last issue

After the most successful year in magazine history, 2003, the largest free monthly magazine for techno, house, jungle, drum & bass in Europe says goodbye with the official last issue. 12 years of TenDance Magazine, that is 109 issues of music and cultural history. 12 years with ups and downs. We like to look back on the 90s with the first big stories about Moby, Paul van Dyk, The Prodigy, Massive Attack, Cosmic Baby, Kid Paul, Underworld, Laurent Garnier, Richie Hawtin, Roger Sanchez and many more. TenDance magazine reoriented itself several times and always showed a musical openness and a feeling for the lifestyle of the electronic music scene, yet to be unmatched.

January

TenDance is switching to green electricity

The entire company will only use green electricity from now on. The aim is to reduce the emission of climate-damaging carbon dioxide (CO2) by purchasing electricity from renewable energies and thus to set a good example as a company when it comes to climate protection. TenDance is also setting an example for other companies, partners and customers.

August

TenDance passes one million orders

Online sales has developed into a real success story. The high level of popularity and the steadily increasing number of visitors and orders encourages everyone at TenDance.

October

The range is expanded to include merchandise and software items

Merchandising and fan articles have been an additional part of the catalogs of music distributors for many years. Now these are also finding their way into the range of plattenladen.de and recordstore.de. In addition to a large number of sound carriers, customers are now also offered other items from their favorite bands and artists.

November

Eight-digit annual sales

With sales in the eight-digit range, TenDance exceeded the mark of 10 million euros for the first time and will close the year with a new maximum.

August

Relaunch - online shop shines in new splendor

In order to do justice to the organization and maintenance of approx. 400,000 articles, a completely new shop system was used and the entire structure was overhauled. Clear lines, clear navigation and atmospheric images should lead the customer directly to their destination. Thanks to the changes, the customer can now get to his desired products even faster and has a clear page navigation that clearly structures the structure of the different categories. The entire offer is now easier and leads the visitor in logical steps to the item they are looking for.

July

Restructuring

After months of work, the online sales have now been restructured. The plattenladen, recordstore, Grooves-Inc and various other portals grooves.land evolves. A single platform for all articles. Only the Playthek brand remains available as an alternative domain for technology.

November

Logistics center

In November, TenDance opened its new logistics center in Berlin. In addition to a 27-meter-long fully automated packing line, which now packs shipments at a rate of 1,200 orders per hour, the need for additional warehouse space was also taken care of. The Central Logistics Center is a key component in the logistics concept, enabling the company to deliver even faster and more efficiently in the future. For this purpose, a modern logistics center with higher availability and productivity was an elementary component with the goal of working directly in the market and very close to our customers in order to enable even faster and flexible delivery, especially for market-specific products.

October

10th million orders

TenDance is celebrating a remarkable milestone in its online business, having reached its 10th million order this month. This means that TenDance, with its grooves.land and playthek brands, is now one of the larger culture and media department stores. This impressive figure is the result of hard work and this has been rewarded by customers.

November

Expansion of product range to include consumer electronics, home and garden articles

If you listen to music, you also need the equipment that goes with it. What could be more obvious than to offer this, in addition to sound, image, video and data media, from a single source? That is why grooves.land is now gradually expanding its range in this area. But also the lifestyle and the mobile enjoyment of sound, film and games have shaped TenDance over many years.

January

Switch to a CO₂-neutral data centre

In an effort to act as ecologically as possible, TenDance is switching its data centre to a new provider that runs it with energy from 100% sustainable plants and renewable energy (green electricity). After all, high-performance Internet servers that serve hundreds of thousands of requests simultaneously and ensure fast access times of just a few milliseconds per page need a lot of electricity to operate the online shops. But the necessary ancillary systems such as routers/switches, cooling and building protection are also in operation 24 hours a day and consume energy.

February

Grooves.land expands its range to include computer and accessory articles

Following the great success and increased demand for consumer electronics as well as home and outdoor technology, grooves.land is expanding its portfolio under the playthek brand to include computer and accessory articles as well as telecommunications, thus rounding off its range of electronic articles.

April

WWF sponsor for the Amazon species paradise

For many years, an area of forest the size of more than three football fields has been destroyed every minute on average in the Brazilian Amazon basin alone. This means that not only trees but also numerous animal species are disappearing. In order to protect this important habitat of our earth and to preserve the habitat of an infinite number of species, some of which are endangered, TenDance has concluded a sponsorship agreement with the WWF for their protection and is thus attempting to fulfil a small part of its corporate responsibility for environmental protection.

August

100% recycled packaging material

In order to leave an ecological footprint as small as possible, TenDance now only uses specially produced packaging material made from 100% recycled material to fill the fully automated packaging line, which operates at a rate of 1200 orders per hour. Only 10% of the orders, which have to be packed manually due to their size or shape, cannot always be packed using recycled materials. And also for the filling material, from now on only recycled (second use) or recycled material is used.

March

Grooves.land expands range to include stationery & office supplies

Writing utensils, office supplies, consumables and paper are needed by everyone. That's why grooves.land also wants to target customers who already use the well-assorted range of office technology, inks & toner with this range expansion, and thus expand and strengthen customer relationships.

October

TenDance is CO₂ neutral

The future belongs to companies that actively engage in climate protection. Our primary goal is to avoid CO₂ emissions right from the start. Unfortunately, however, this is not possible in all places, especially where others contribute or take over duties for us. For this reason, we invest in various verified climate protection projects and reforestation in order to neutralise the emissions calculated for them through emissions offsetting.

April

100% electic vehicles

Electromobility is a very popular topic, and we live it. In the interest of the environment and TenDance's declared goal of continually reducing its own CO₂ emissions, we have said goodbye to all internal combustion engines in the company and have now replaced the last vehicle with an electric vehicle. This means that the vehicle fleet and logistics are now CO₂ neutral.

July

Corporate design facelift

With a clear design, modern harmonious colours and a unique charm, the new TenDance logo now presents the traditional company to the outside world. The gentle, yet very noticeable facelift is intended to present the rapid development to the outside world. More modern, more authentic and usable on all digital channels, it shows that we never stand still beyond our core competencies and are constantly improving.

November

TenDance webseite relaunch

TenDance presents itself on the Internet from a new angle. During the relaunch, the focus was not only on a modern, clear design, but also on user-friendliness. The new website offers comprehensive information and materials for potential customers, partners and journalists and can now be optimally operated from all devices thanks to its responsive design.

March

Anniversary

Ten Dance Media is celebrating its 30th anniversary and is therefore not only one of the oldest music online shops still in existence. In 30 years, we can look back on an eventful history as a promoter, mail order service, club operator, artist agency, publisher of one of the biggest monthly magazines for electronic music in Europe and as one of the biggest music online shops.

July

Grooves.Land Label

The company's own music labels Strike Records, Alternate Records and Grooves Inc. are combined to form the new Grooves.Land brand. Under the new main music label, the album "Paleance" by artist DJ Abyss is released with a compilation of the artist's biggest club hits from 1998 to 2004. The first album release after a few years break will be released in July in the USA on CD and as a stream, and in September the album will be released worldwide.

August

Expansion of mobile payment methods

The online shop is expanded to include the new payment methods Apple Pay, Google Pay and Ali Pay. Grooves.Land/Playthek is thus one of the first online shops to include all important payment methods with which mobile payments can be made quickly, easily and securely in a one-click process.

February

Comparison of products

Due to many customer requests, a very comprehensive product comparison was integrated into the Grooves.Land/Playthek online shop. Customers can now clearly compare the exact data of individual products in a general overview. Using the notepad, the articles can be saved temporarily and compared later.

October

Vinyl Release

After a break of several decades, the vinyl record is enjoying increasing popularity again. For the first time in 30 years, Grooves.Land is releasing a record on vinyl. The album release "Into The Abyss" will be released not only on CD and of course on all streaming platforms worldwide, but also as a limited double vinyl. In contrast to the normal album release, only the club versions of the album tracks are included on the two sound carriers on vinyl.